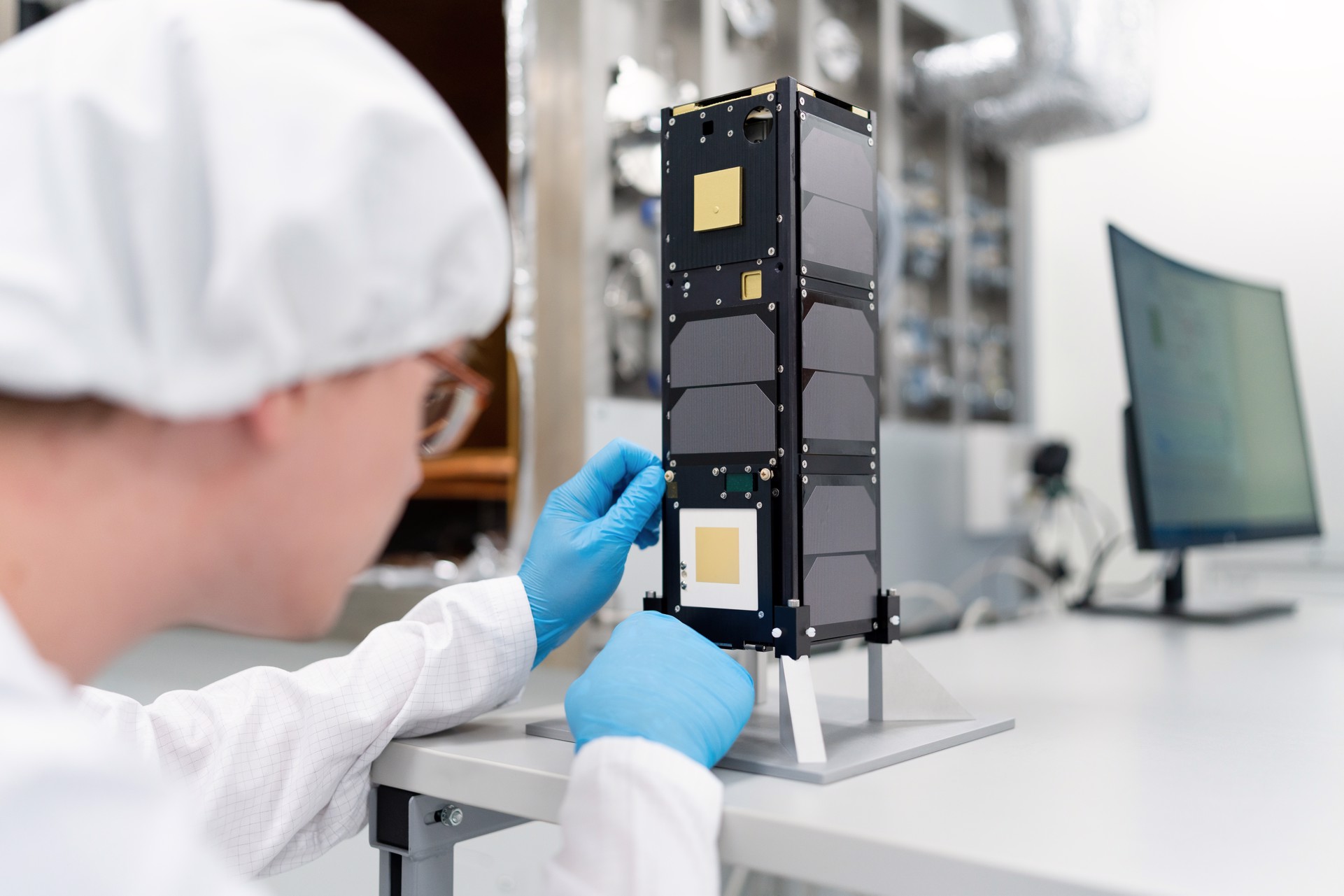 Space Qualification and Acceptance testing
The objective of Qualification and Acceptance testing is to identify possible design flaws during the development process by simulating the launch vehicle ground and flight environmental loads including space and upper atmosphere conditions. Testing is required for all nanosatellite components as well as the full spacecraft assembly, to ensure the spacecraft meets the performance criteria for a forthcoming mission and all applicable CubeSat standards.
Serenum as a part of VZLU group provides a complex set of design verification services, including:
Design of custom test plans and procedures, considering spacecraft mission conditions
Custom design and manufacture of test GSE
Environmental testing

Vibration and Shock testing
Thermal Vacuum Cycling

ISO 6 Cleanroom and ISO 8 Cleanroom available for satellite assembly and payload integration

Mechanical tests
Vibration and shock testing
Shock and vibration testing verify spacecraft performance under extreme conditions. We provide the full spectrum of mechanical testing necessary for Qualification, Proto-flight, and Acceptance of spacecraft.
Test types:

Resonance search

Quasistatic

Sine

Random

Shock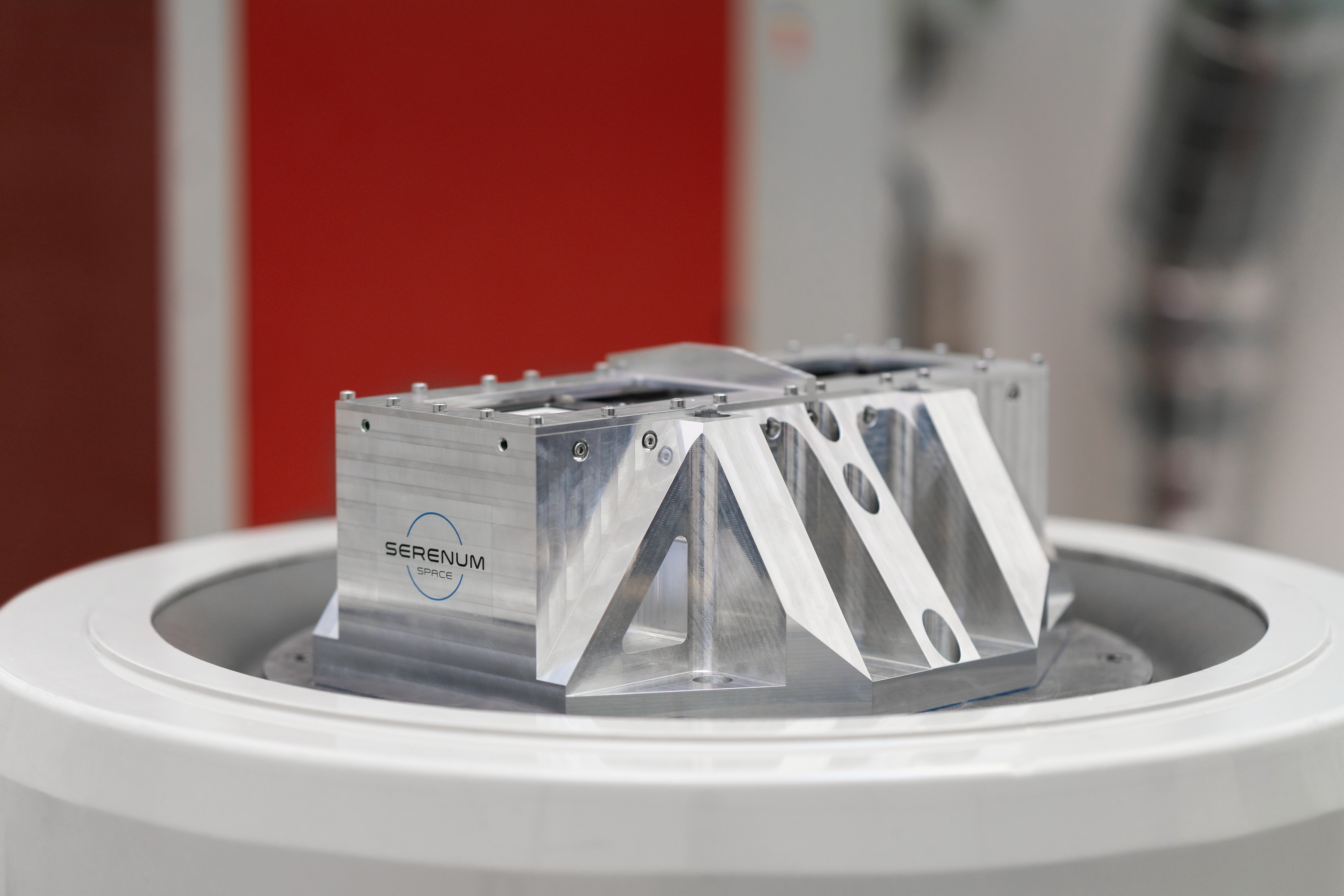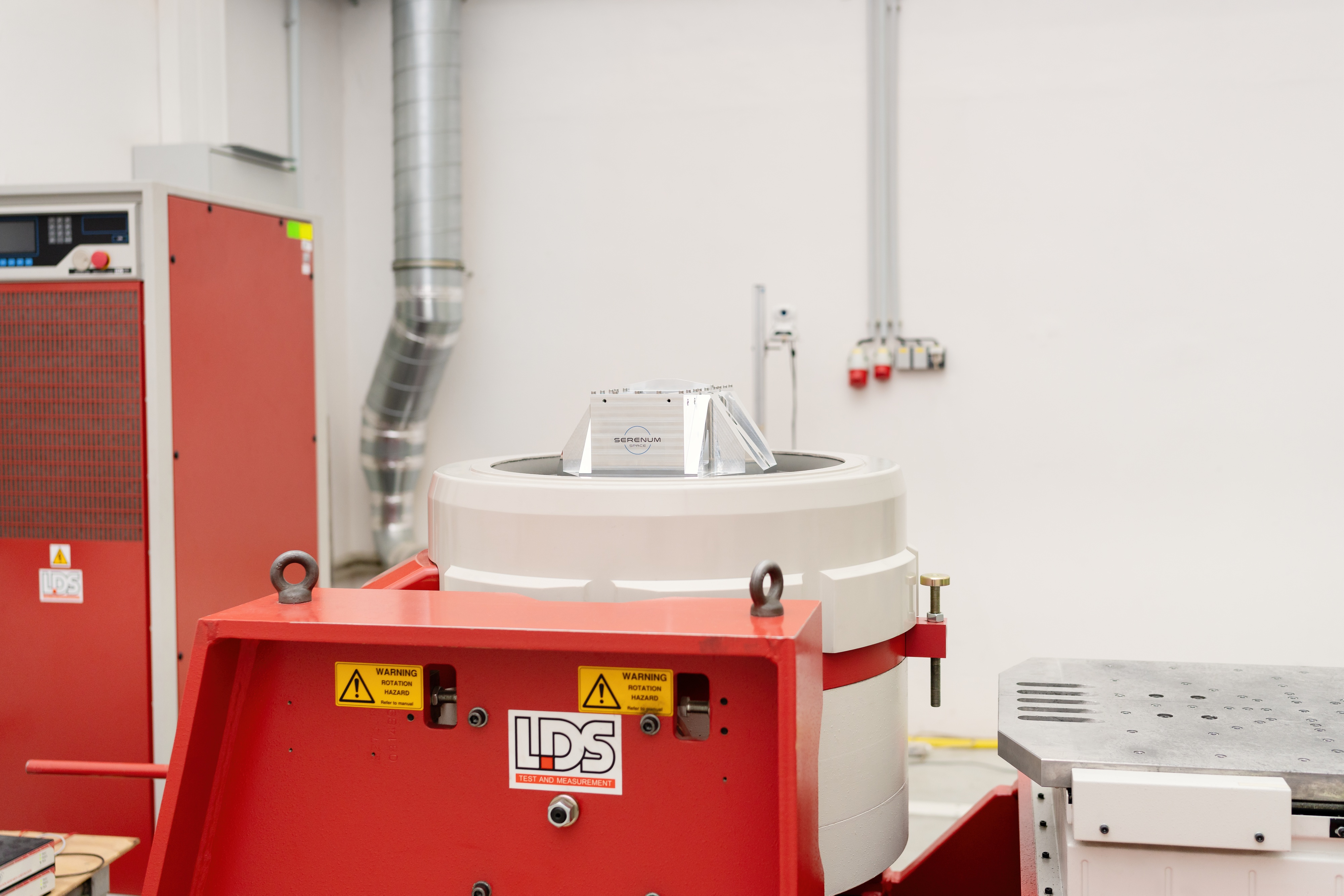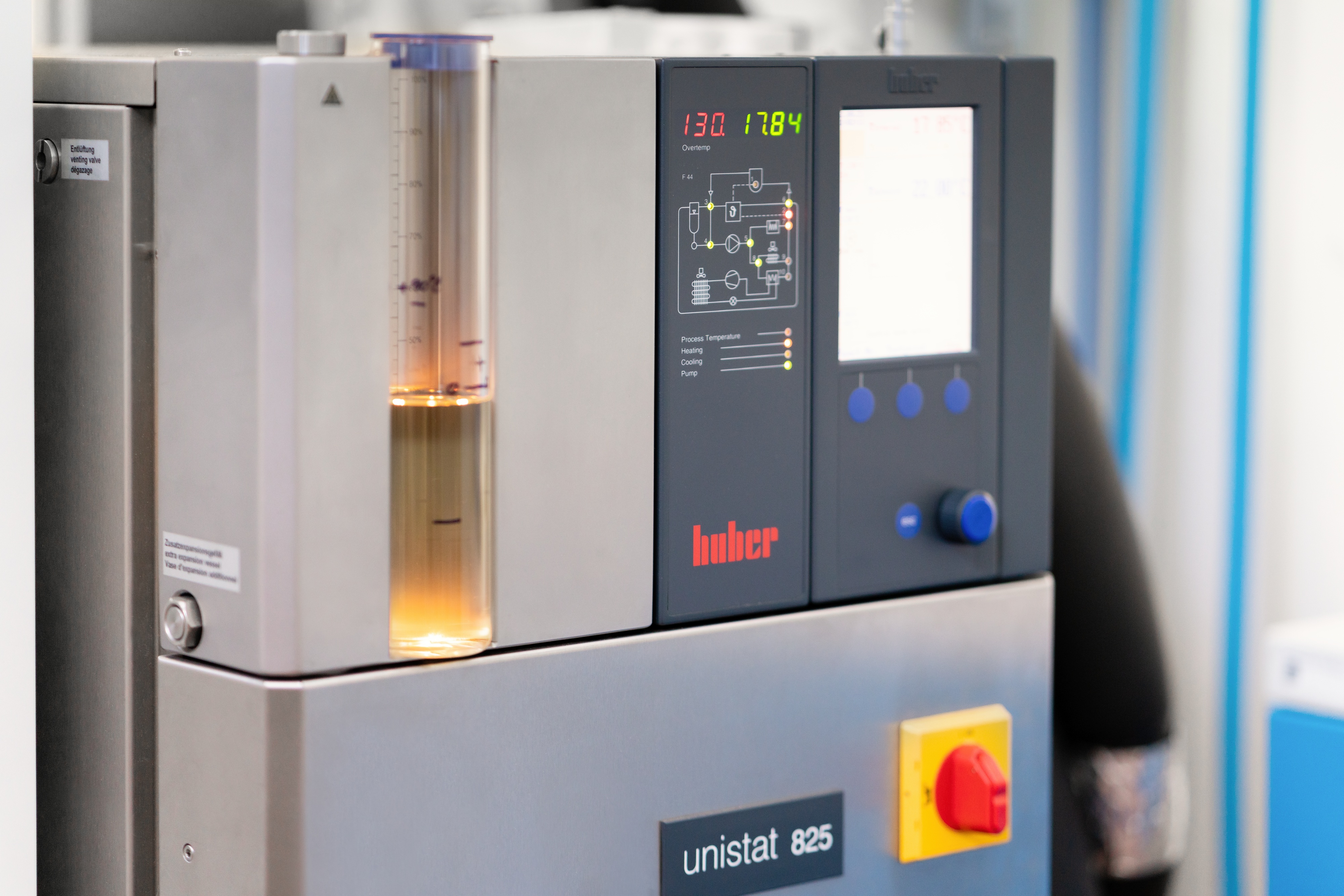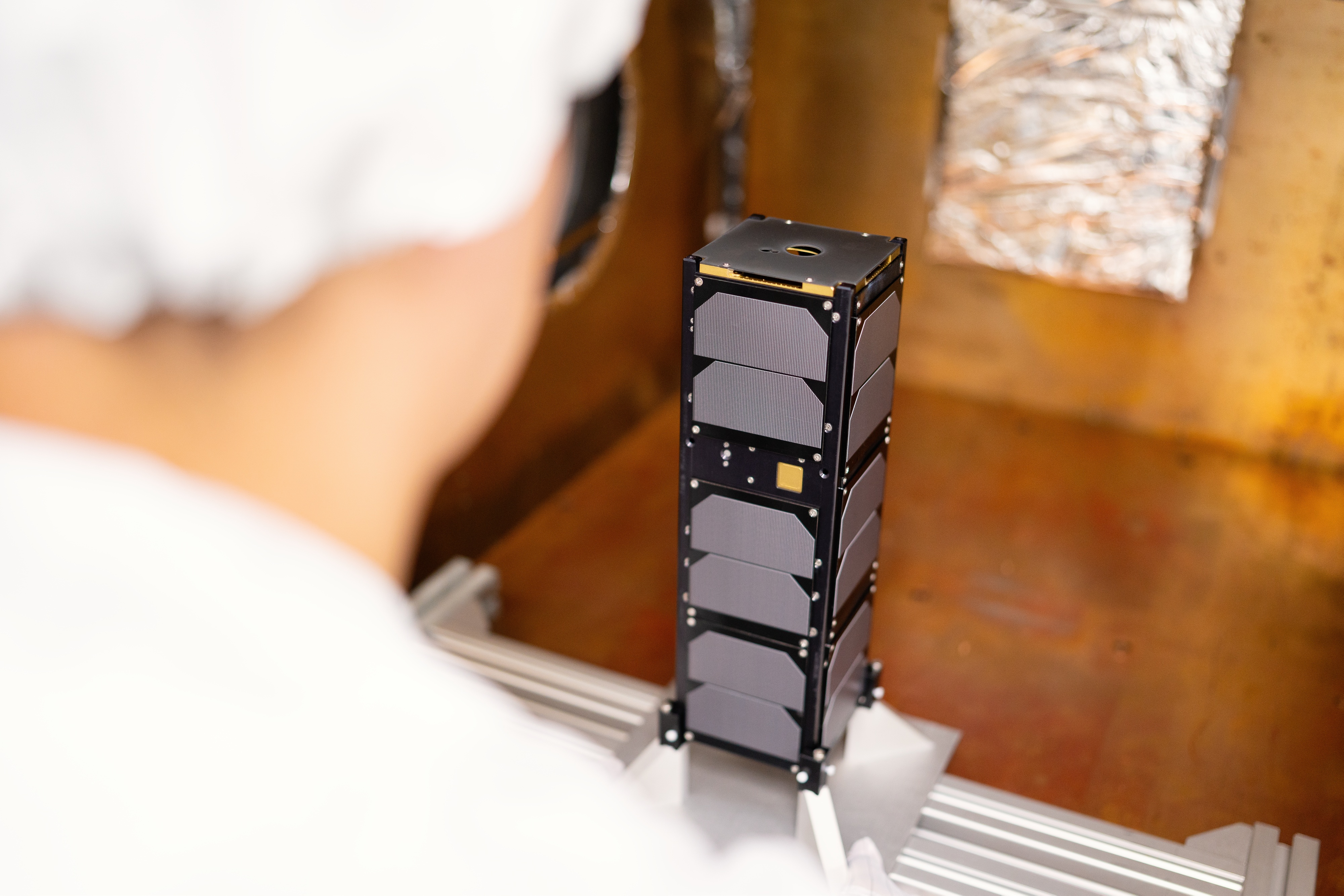 Climatic tests
Thermal vacuum testing
A thermal vacuum chamber allows the simulation of conditions in space including both temperature and vacuum. The purpose of testing is to reveal possible deficiencies of the design by cycling very high and very low temperatures in a space-like environment of the chamber.
Services:
Thermal Vacuum Cycling
Thermal Vacuum Bake Out
TV chamber specification:
Chamber volume: 1000 mm x 1000 mm x 1000 mm
TV tunnel chamber extension available: 10 m x 200 mm diameter
Thermal Vacuum tests are performed within ISO 6 Cleanroom.
Maximum external dimensions for parts to be placed into the chamber: 950mm x 870mm x 780mm
Vacuum value < 10-3 Pa
Temperature values:
Range: -120 ºC – +150 ºC

Accuracy: 0.1 ºC
Regulated rate: 1 °C/min
Cleanroom
A Cleanroom is dust, temperature, and humidity controlled environment that protects satellites and spacecraft components from contamination during its development, construction, and testing. SERENUM operates class ISO 8 and ISO 6 Cleanrooms. In general, an ISO 8 room is sufficient for satellite platform assembling, while payloads usually require ISO 6 environment.
Cleanliness: ISO 8 (equivalent to FED STD 209E Class 100,000), ISO 6 (equivalent to FED STD 209E Class 1,000),
Maximum dimensions for parts to be assembled based on the room size:
ISO 8 Cleanroom: 31,25 m2; 5,6m x 5,0m x 2,6m + 2,5m x 1,3m x 2,6m
ISO 6 Cleanroom: 31,50 m2; 5,6m x 5,0m x 2,6m + 2,5m x 1,4m x 2,6m
References
Working with us means capitalizing from our well-equipped testing facilities and years of experience of experts from SERENUM and affiliate companies VZLU and VZLU Test with Satellite testing and a wide variety of specific test campaigns ranging from small, single-purpose tasks to complex projects.
Examples:
Proba 3 qualification and acceptance testing of ASPIICS Coronagraph Front Door Assembly flight model
SWARM qualification and acceptance testing of three microaccelerometer instrument flight units
JUICE concurrent design qualification of radiation shielding and magnetometer arm (length over 10 m)
EUCLID concurrent design qualification of mechanical elements
ARIANE 6 structural testing of booster structural part, strength analysis, and design of launcher structural parts, in cooperation with MT Aerospace
FLPP CFD and flutter calculations and wind tunnel experiments performed on scaled composite aeroelastic models in subsonic, transonic, and supersonic regimes.
CubeSats qualification and acceptance testing for multiple CubeSats and payloads
Standards:
ECSS-E-ST-10-03C Testing
EN 60068-2-57, 59, 64
RTCA/DO-160
MIL-STD-810
Photo credits: VZLU, a.s., VZLU TEST, a.s.